Ensemble Houthandel formed as a wind quintet at the Royal Conservatoire Antwerp in 2005. At that time it was called 'Ensemble Houthandel Antwerpen' and was initially active for exam performances, also becoming an emblem for the conservatoire and for itself in a variety of self-organised concerts. The group studied and rehearsed the standard wind quintet repertoire intensively in those early years.
In 2007 Houthandel was selected as finalist at the renowned Belgian chamber music competition 'Gouden Vleugels', and this generated a great deal of interest and a well-filled concert schedule. Their first production, 'De Grote Houthandel Antwerpen Show', was performed twenty times
at a variety of important venues. Together with Jeugd & Muziek Vlaanderen, Ensemble Houthandel also organised a successful series of educational (school) concerts.
In February 2009 Houthandel was declared winner of the 4th edition of Gouden Vleugels and awarded the Jeugd & Muziek Chamber Music prize organised by Jeugd & Muziek Vlaanderen, Radio Klara, newspaper De Standaard and the KBC Bank. This award really put the wind in the ensemble's sails, and in the 2009-2010 season there were no fewer than 35 performances of 'De Grote Houthandel Antwerpen Show' and a number of highly acclaimed concerts in the Netherlands. Part of the Gouden Vleugels prize gave Houthandel the opportunity to record their debut CD 'Kicking Sawdust' in Studio Toots, a well-known location for Flemish Radio and Television. This was followed in April 2010 by a concert tour to the Spanish Balearic Islands.
In the 2010-2011 season the oboe and horn chairs were vacated and Houthandel welcomed two new musicians. As a result the ensemble became even closer-knit, and the dynamics for rehearsal and creativity grew in intensity. That season saw Houthandel perform 16 school concerts of the Grote Houthandel Antwerpen Show, 8 performances of 'Kicking Sawdust' and 10 performances of 'Peter and the Wolf ', a dance production of 'In the Wings' directed by Anne Geenen. In addition Houthandel set up the 'Blazersatelier' or 'Wind-Players' Studio': a creative and innovative workshop for students of wind instruments.
The concert list for 2011-2012 also had a promising start, with 14 performances of 'Kicking Sawdust' and a major revival of 'Peter and the Wolf ' with no fewer than 21 performances in the Netherlands. This list was supplemented by various school and other performances, and a concert tour to the International Music Festival Vitoria- Gasteiz in Spain.
In the 2012-2013 Ensemble Houthandel realised its ambitious project 'Do You Remember?' For this the ensemble commissioned the British composer Philip Feeney, who is internationally known as a composer for ballet, as well as working with the Dutch theatre and opera director Sybrand Van Der Werf. The result has been the most theatrical and multi-layered production by Houthandel to date, from which followed an extensive tour spread over two seasons and innumerable school concerts. A highly successful spin-off from this production has been the interactive family show 'Weet Je Nog?'
In 2014 Houthandel created their production 'Soirée Deluxe' with highlights from the wind quintet repertoire and sensational in every sense of the word. At the same time the ensemble has been preparing for their recording project 'Into the Woods' in which they have drawn on Anglo-Saxon repertoire to create an accessible programme with a variety of stylistic influences. This production has its première in 2015 followed by a series of performances in Belgium and the Netherlands.
Ensemble Houthandel is given financial support by the Vlaamse Gemeenschap en Kunstcirkel vzw (the Flemish Community and Art Circle)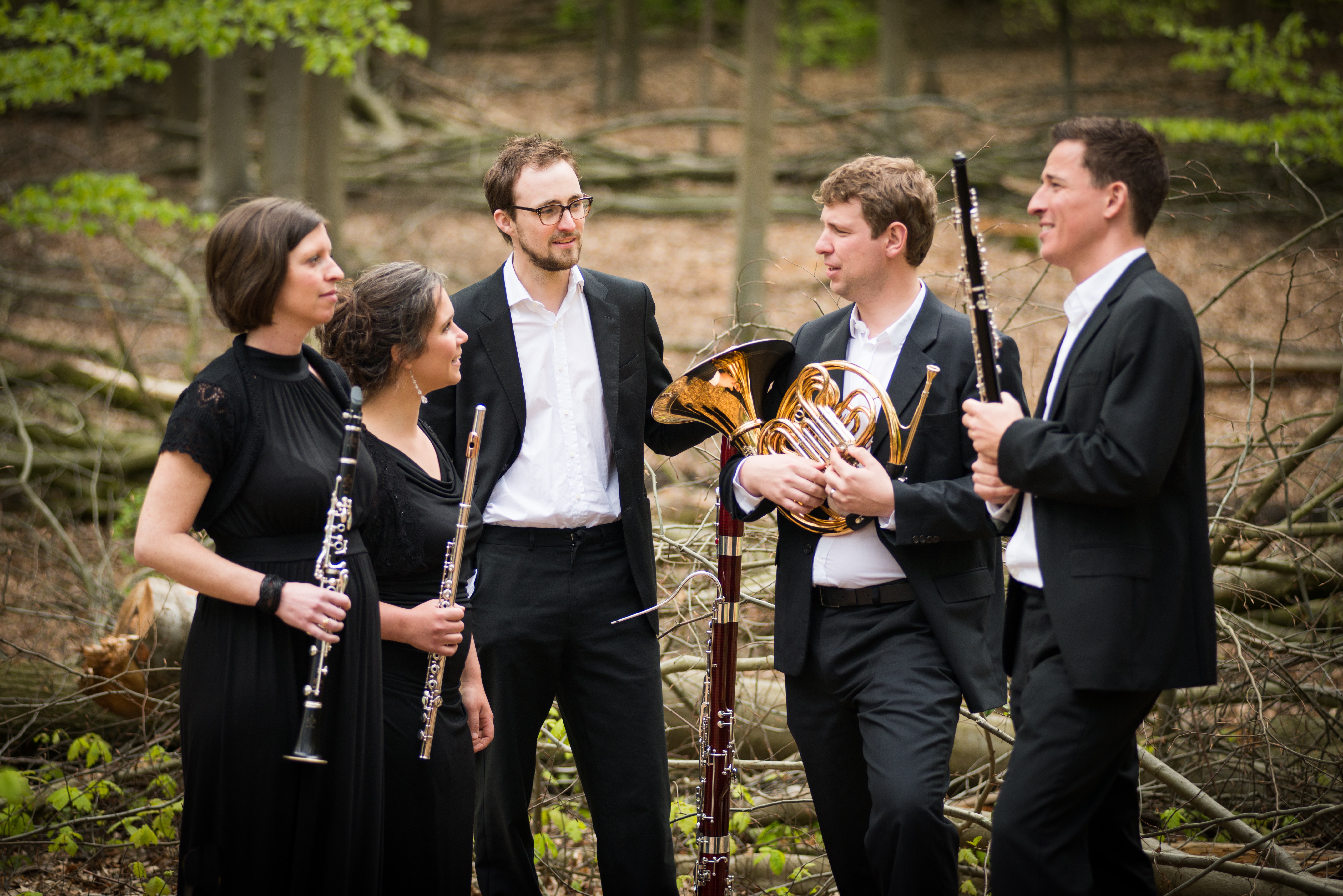 (Photography Kris Hellemans)